Separation anxiety in dogs
Do you know it too: you come home and your apartment looks like a debris field? Has the rubbish bin been emptied, the laundry rummaged through, furnishings destroyed and maybe there is urine or feces on the floor or your bed? The neighbors are annoyed and you get complaint after complaint about your dog barking when you are not at home? I know how you feel... In this book I report on my personal experiences with the topic of "separation anxiety" and you will receive step-by-step instructions.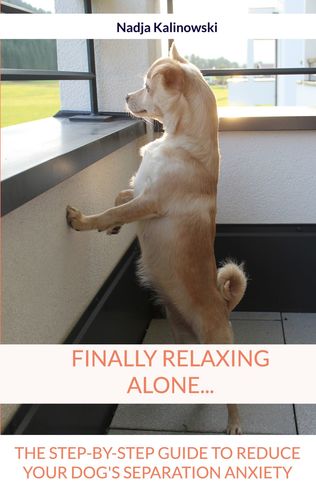 When Lefi moved in with us, she was about 10 weeks old and I never expected that we would have the problem of "separation anxiety". I knew we were going to face some challenges. Lefi was hyperactive and it was difficult for her to concentrate and control herself.
However, the topic of "separation anxiety" did not come to mind, because Lefi was not alone. She was added as a second dog to Milo, who never had a problem with being home alone at all.
Already on Lefi's first day with us I had a bad feeling. The situation was as follows: Lefi, Milo and I were in the living room together resting nicely. I got up to go to the kitchen and closed the living room door behind me. It must be said that there was a frosted glass window in the living room door, so that shadows and lights could be seen. I went briefly into the kitchen and immediately heard a yelp and excited jumping back and forth. When I came back after a few minutes (or probably seconds), Lefi appeared extremely stressed while Milo was sleeping in his seat. I put the situation down to the fact that it was Lefi's arrival time with us. In the following days she settled in and I started a new attempt.
This time Milo and Lefi were in the living room and slept. The room door was open and I sneaked out of the apartment for 20 minutes to buy something. I had a good feeling, because Lefi didn't even notice that I was leaving. But when I came back home, I could already hear Lefi in the stairwell. She was barking hysterically and occasionally howled like a wolf. I unlocked the door and she jumped wildly at me with a pack of pills (luckily sealed) in her mouth.
It was clear to me: I - or we - have a problem!
I was so frustrated, shocked, sad... actually all emotions came up in me. From now on (almost) everything had to be based on the dog. No shopping quickly, going to the cinema or do something with friends without a dog.
Every non-dog activity now had to be carefully planned and organized for the dogs. I was lucky at the time that I was able to give Lefi 24-hour care. She was with me in the office during the day and we were also together in the evenings and on weekends.
Since giving up was not an option for me, I got all the literature on the subject of "separation anxiety" and also read through various articles on the Internet. Unfortunately, most of the tips didn't work for us.
But what could I do now to help Lefi?
I created our own training plan (which I had to adapt again and again) and we started training. Now the motto for each day was practice, practice, practice! Many repetitions, several emotional rollercoasters and about half a year later it was possible for Lefi to be alone for about 30 minutes. Finally!
After about 1.5 more years it was done and since then Lefi has been able to relax at home alone for several hours. It is also possible to leave her alone in other places she is not familiar with, such as in a hotel room. 
"I became aware of Nadja via Instagram and was pretty desperate at the time because Paula didn't want to be separated from me for a second. Since Nadja already had experience with the problem of staying alone with her Lefi, I have, despite my skepticism compared to online training, sent a tearful e-mail and shortly afterwards we had the first zoom meeting. Nadja was super likeable to me thanks to her open and emphatic nature. We drew up an initial plan and we have been in regular contact ever since. She is also always available via WhatsApp and pushes, motivates and calms down wherever she can. She had to listen to some desperate voice messages and always encouraged me and thought of new solutions. The emotional support was really the most helpful for me to deal with the situation to be able to see clearly again - often or rather always it wasn't as bad and hopeless as I thought.
Paula and I now and then spend a few hours apart from each other, yay!"